With more of us working at our desk and having a sedentary lifestyle, it doesn't really come as a surprise to learn that spending many hours per day sitting can be bad for our health.  The strains of sitting in your office chair can lead to neck, shoulder and lower back pain through putting pressure on the lumbar spine, over-stretching of the mid and upper back, and shortening of the chest and hips. However, various yoga techniques can be used to help relieve these tensions and daily stresses that occur at our workstations. Our mood and our energy levels can also be affected by our sedentary habits. If only there was a solution that we could practice daily to improve our overall wellbeing between breaks at our workstation, then look no further and ask yourself have you ever tried desk yoga?
Why is desk yoga a revelation for the modern worker?
Desk yoga is a modern intervention for office workers. It is the perfect practice to do at your workstation at any time of the day. These exercises can be performed daily at your workstation for as little as 5 minutes, making this both practical and accessible when you need to take a rest break.
What does desk yoga involve?
Desk yoga involves a sequence of stretches (seated postures) and strengthening exercises, aligned with deep breathing, to help reduce stress and release physical tension caused by poor habitual posture and practices. Doing daily stretches at your desk, aligned with deep breathing can help improve overall flexibility, neuromuscular coordination, balance and postural awareness.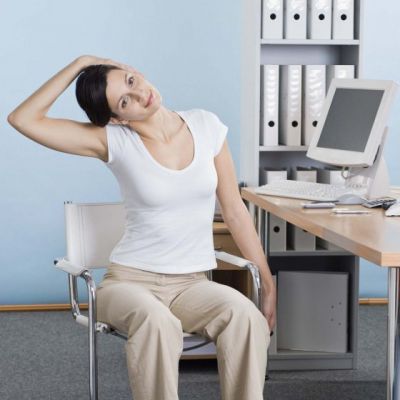 How can desk yoga improve your energy levels during your working day?
Stretching is a safe and beneficial activity for healthy adults. When performing the exercises, you are encouraging your muscles to release tightness and tension and you're allowing your body to increase its range of motion via movement, this aids in reducing pain, stiffness and fatigue. When breathing deeply and properly, this promotes relaxation, which eases the mind from the overload of stress. Breathing deeply also promotes the respiratory, circulatory and digestive systems to function better and this can recharge our energy levels when these systems are working at their optimum potential.
An insight of the practice
Desk yoga is a practice you do seated at your chair; your hips, knees and feet are aligned parallel to the floor. Before beginning a series of stretches you could take a moment to close your eyes and connect with your breath. The exercise involves stretching different muscle groups of the neck, shoulders, trunk, arms, hands and the lower extremities. The practice can also be concluded with devoting some time to mindfulness.
How does one feel after practicing desk yoga?
Most people that have practiced desk yoga feel rejuvenated, positive and their range of motion is enhanced, and tension has been released. So doing this daily has a positive impact on you and how your body feels throughout your working day.
On Site Wellbeing Company provide a variety of Workshops, classes and activities including Desk Yoga classes  both online and onsite for organisations and employees
If you'd like to know more then Contact Us or call us on  0333 900 0212.